Here at Kybotech, we're always on the lookout for new talent – for people and personalities that gel with our company ideals and are hungry for success. So to understand what life at Kybotech is like, we think there's no better way than to talk to some of the real people who work there.
Check out their answers below to see if Kybotech is the right fit for you!
Hi Leonardo, which brand do you primarily work on?
Mainly on Garden Buildings Direct.
And what's your role at Kybotech?
So I'm a customer care assistant as part of the care department.
Can you briefly explain what your role involves?
Assisting with any incoming customer queries.
Kybotech's a "fair and good working environment".
And how long have you worked at Kybotech?
For 2 years now.
So how big is your immediate department?
It's around 10 people.
And what does "a day in your life" look like at work?
Anything from taking incoming calls to responding to emails and chat support.
Cool, and how have you found working remotely during the past 1-2 years?
I reckon it's been more convenient for my part actually!
What's a proud moment you've had whilst working here?
Just any time I'm able to assist and solve a customer's issue.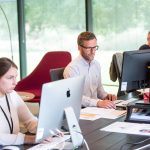 And anything on your list to achieve over the next year?
Oh, a lot. Owning a house for one!
What useful skills have you learned whilst working here?
Just learning how to go the extra mile.
And what's the best thing about working at Kybotech?
That the managerial team are ready to listen to any issue that needs to be raised.
Good, and how would you describe life at Kybotech in 5 words or less?
Fair and good working environment.
Thanks for your time – and if you want to follow in their footsteps, click to apply here.