Here at Kybotech, we're always on the lookout for new talent – for people and personalities that gel with our company ideals and are hungry for success. So to understand what life at Kybotech is like, we think there's no better way than to talk to some of the real people who work there.
Check out their answers below to see if Kybotech is the right fit for you!
Who's Harry?
Hi there, Harry Patte-Dobbs.
And which brand do you (primarily) work on, Harry?
So I started off working solely on Garden Buildings Direct (GBD), but I then moved on to BillyOh, and even more recently to working on Bobbin and continue to "float" between the three.
Right, and what department do you work in for these brands?
I work within the marketing department.
And what's your role at Kybotech?
I'm classed as an SEO Copywriter.
"I've also learned a lot about time management, setting goals, and setting up and seeing a project through to completion".

Harry
What Does He Do?
(If you haven't heard of an SEO copywriter before, don't worry. Harry, can you briefly explain your role/what it involves?)
Of course – so copywriting is the act of literally writing copy – words, sentences etc. for anything from a "strapline" for a page to product descriptions and blog posts.
Cool – and how long have you worked at Kybotech?
It's getting on for almost 1 year now.
How big is your team/immediate department?
That's a good question – it's sometimes hard to pin down as there are definitely some people (like Sam in finance) who help out with marketing from time-to-time. I'd say the marketing team is fairly close-knit with regular contact between 3-5 probably people?

"A Day In The Life" of a Copywriter
Well, in the morning (especially at the start of the week), we/I run our regular reports in tools like Google Analytics – just to see that everything's on track, to see if the changes we're making are having an impact and whether there are any problem points.
Then, we'd usually have a quick meeting about these, come up with a plan for the week – broken down into to-do's, expected outcomes etc. and then maybe go over it with, say, the head of IT or the CFO before getting into it!
And what gets you out of bed and to work in the morning to do all that?
I'd say probably solving anything that's been bugging me overnight! Things like new little tweaks and changes to make our site better, make the user experience (UX) better and ultimately dominate SERPs (search engine results pages).
Otherwise, maybe a little bit of yoga and a coffee! 🤣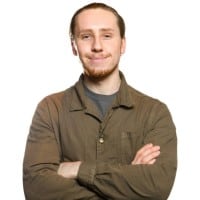 Working Remotely
(How have you found working remotely during the past 1-2 years?)
Pretty good actually – I started in the fully-remote era as there isn't a whole lot of need for me to be on-site (though I look forward to going at least once when things are back to normal!). Communication is regular and varied across different channels and I've got a nice little "home office" set up with a chair and a big desk.
What's one proud moment you've had whilst working here?
Myself and my Marketing Coordinator (Holly) wanted to put more user-generated content front and centre on GBD. We realised (from the outreach that some of our social media team like Sarah had done) that loads of people used and loved our products and were happy to share their experiences. 
So we turned their experiences into little slideshows and quotes featured on the page of the product they'd bought. This was especially cool because it generated good results measured against certain KPIs and became something that we rolled out (in various forms) across other sites and acquisitions.

Skills and Experience
(What's on your list to achieve over the next year?)
Visit the site in Worksop I guess, as I said. Find some sort of normality and stability versus the craziness of the last couple of years of flux, and definitely spread our tactics and content creation to more sites and brands under the Kybotech umbrella.
How have you seen the company change/grow since you've been working here?
Absolutely – I've helped to interview and seen some great new candidates hired, I've seen aesthetic changes to the E-commerce sites and even the acquisition of a new business – a lot has changed even in a year.
What useful skills have you learned whilst working here?
I had some knowledge previously but definitely got dropped in the deep end of the world of SEO/ Luckily, I think I just about managed to swim rather than sink! I've learned a lot more about how E-commerce businesses operate, how to use a CMS and edit and control products and content in a website's backend. 
I've also learned a lot about time management, setting goals, and setting up and seeing a project through to completion.
"It's fast-paced and high reward".

Harry
Can you remember a memorable facepalm moment at work? (It's ok we've all had them!) How did you grow/improve from this?
I seem to remember a time in my first month or so where, after reading up on forums and Youtube tutorials, I thought I'd found a simple solution to a recurring error and I ended up changing something that crash the blog for about 10 minutes before Hieu from IT came to the rescue!
Why Work at Kybotech?
(Why did you decide to apply to Kybotech – What was it about the role that seemed attractive?)
It seemed, from the interview process and job posting, that they were very receptive to candidates who were willing to work hard and learn. There was certainly an emphasis on company fit rather than experience alone – which is pretty rare even for graduate jobs. 
It also seemed like there was a real opportunity to have some ownership over the work I was contributing (which has definitely been the case!). 
What's the best thing about working at Kybotech? Is the company working on improving anything that doesn't work so well?
I'd say the fact that you do get to make real changes to the face of the company, websites, and ultimately success with the work you do. If anything doesn't work so well everyone's very receptive to breaking a problem down – jumping on a call of a Google Meet, coming up with a plan in 30mins and getting to work. 
It's fast-paced and high reward.
How would you describe life at Kybotech in 5 words or less?
Growth – (and keep things simple)!
Any advice for potential candidates?
Weigh up your skills and consider that anything you don't know can be taught. If you want to prove yourself as part of a team, are happy working to deadlines remotely and can motivate yourself – apply!